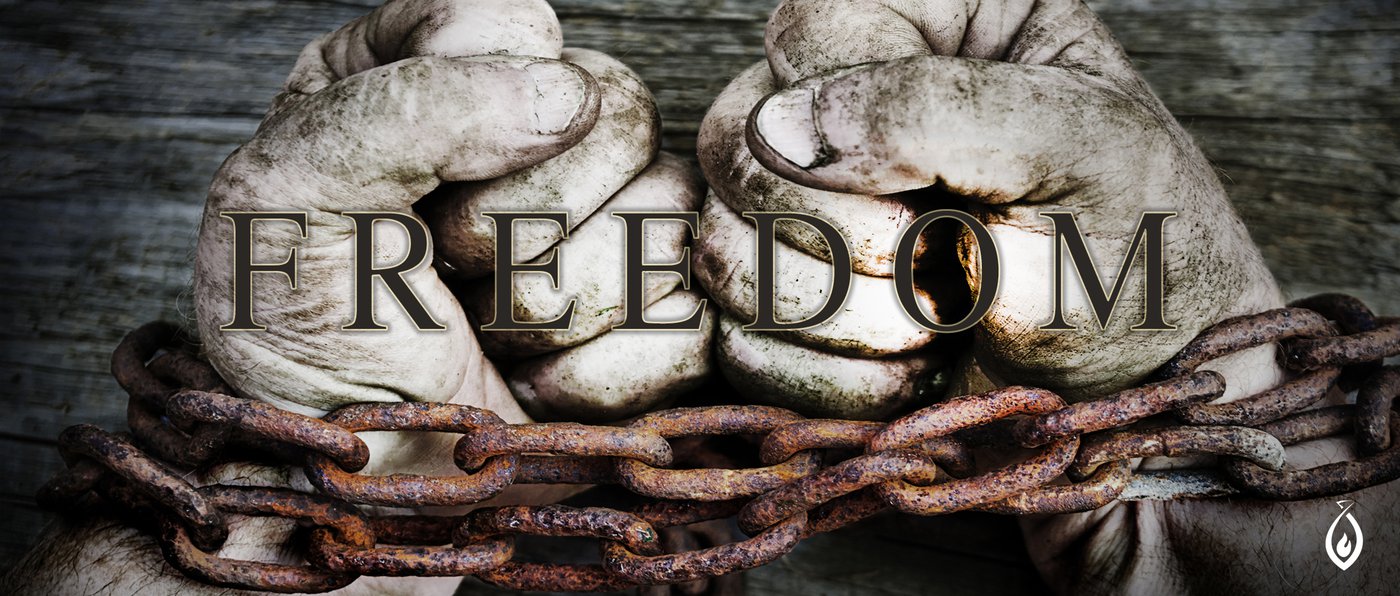 Freedom Series -- Refuge -- 9/15/19
Freedom Series (Sermon 2)
"Refuge"
Last week, I showed you the 3 themes of Jesus' ministry that were proclaimed in Luke 4:17-21:
1.) Good news
2.) Healing
3.) Deliverance
"The Spirit of the Lord is upon Me, Because He has anointed Me To preach the gospel to the poor; He has sent Me to heal the brokenhearted, To proclaim liberty to the captives And recovery of sight to the blind, To set at liberty those who are oppressed; 19 To proclaim the acceptable year of the Lord."
Preaching is mentioned twice. Healing is mentioned twice. And Deliverance is mentioned twice.
It is impossible to understand the ministry of Jesus Christ without embracing the preaching of the gospel, the healing of the broken, and the deliverance of the captive.
Jesus is our Good News. Jesus is our healer. Jesus is our rescuer.
One of the most important spiritual realizations of our lives is to understand our brokenness.
What happens in Genesis with temptation and the serpent is more than sin. It is an invitation to pass judgment upon God and seek answers within the self.
Now the serpent was more cunning than any beast of the field which the LORD God had made. And he said to the woman, "Has God indeed said, 'You shall not eat of every tree of the garden'?" (Genesis 3:1)
This is a move from surrender to judgment. From "we accept your Lordship" to "Who should be judging whom?"
There are great spiritual consequences to judging God – this is the first idolatry.
The Ten Commandments' first two and most basic laws (one-fifth of God's law to humanity) are against idolatry.
The classic New Testament text is Romans 1:18–25. Verse 21 tells us that the reason we turn to idols is because we want to control our lives, despite the fact we know we owe God everything:
"Though they knew God, they neither glorified God nor gave thanks to him."
Verse 25 tells us the strategy for control—taking created things and setting our hearts on them and building our lives around them. Since we need to worship something, because of how we are created, we cannot eliminate God without creating God-substitutes.
Verses 21 and 25 tell us the two results of idolatry:
Deception—"their thinking became futile and their hearts were darkened." (v. 21)
Spiritual slavery—"they worshiped and served" created things. (v. 25)
Whatever we worship we will serve. Worship and service are always inextricably bound together. We are worshippers. We worship whatever most captures our imagination and heart. It ensnares us. So every human personality, community, thought, and culture will be based on some ultimate allegiance—either to God or to some God-substitute.
But by exalting ourselves we are alienated from God. Why?
We cannot both love and serve God, while simultaneously attempting to supplant and compete with God. This is the ultimate idolatry. Exaltation of self. This is the Lucifer path. The result is spiritual death. Separation from God.
Once humanity, Adam and Eve, judged God, and embraced their own Knowledge(Opinion) of Good and Evil, our survival strategy was now to lie to ourselves, to defend our own judgment. We became the children of the great lie – that we know Good and Evil. We cannot even judge our own hearts, much less Good and Evil.
So we "live in darkness." And we stack lie upon lie – we live as if "our standards" "our opinions" "our judgments" reflect inherent goodness, because they are acceptable to our fellow man — and we believe that we only occasionally violate that goodness – that is the darkness by which humanity lives.
We think we are good. Or at least, not bad!
While we war one with another, we think we are good...
While we speak ill of our brother, we feel like we are good…
While we enjoy full stomachs and the world goes hungry, we feel like we are good…
While we rob God, we think we are good...
While we make a Kingdom of Service into a Doctrine of Self, we think we are good…
This is spiritual darkness...
The entire mission of Jesus Christ in this world was a conflict between light and darkness (cf. Jn 1:5; 8:12; 12:46) — So for the believer, Christ is "our light," and as our light Jesus Christ reveals the truth whereby we are to live.
Jesus said, "I am the light of the world; he who follows Me shall not walk in darkness, but shall have the light of life" (cf. Jn 8:12). This is both identity and purpose. Jesus is our redeemer and we have a redemptive calling.
Likewise said Jesus, "I have come as light into the world, that everyone who believes in Me may not remain in darkness" (cf. Jn 12:46).
It is hard for us to handle being exposed for who we really are, because it does not coincide with who we think we are. Therefore we are satisfied to live a life of pretense (pretending to be what we are not).
And our flesh loves darkness rather than light? Why? Because when you hold judgment in your hands you get to blame everyone but yourself. We don't have to trust. We don't have to surrender. This is the path of natural flesh.
Just because we are religious does not mean that we love light rather than darkness. (The most judgmental people I have known have been deeply religious people) Remember, every rebuke of Jesus concerning "darkness" was directed to religious people.
"Darkness" is a way of living, a way of judging, a way of holding others in contempt, a way of exalting what "I judge" above everything else...
The world rejects the truth and embraces darkness because its deeds are evil (that is, God is not the ultimate determinant in their thinking or their living; cf. Jn 3:19); but understand, what we think of as the "world" is an emergent phenomenon from many people "doing what is right in their own eyes." (Judges 17:6)
Therefore, this way of exalting Self and judging God has become the reality that we all live in; this exerts a corrupting influence that is diabolical and opposed to the truth (cf. Rom 1:18-32; 2:5-9).
Though we blame Adam for the brokenness of creation, it does us no good to do so because we all hold judgment in our hands, we all do evil while pretending to be good, and we all justify our decisions.
Paul wrote in his letter to the Romans: "It is no longer I who commits evil, but sin which dwells within me. For I know that nothing good dwells within me, that is, in my flesh. I can will what is right, but I cannot do it. For I do not do the good I want to do; instead I do the evil I do not want to do" (cf. Rom 7:18-19).
But Jesus Christ has come to heal us and to deliver us. All we have to do is surrender.
Romans 5:12-21(NLT)
12 When Adam sinned, sin entered the world. Adam's sin brought death, so death spread to everyone, for everyone sinned. 13 Yes, people sinned even before the law was given. But it was not counted as sin because there was not yet any law to break. 14 Still, everyone died—from the time of Adam to the time of Moses—even those who did not disobey an explicit commandment of God, as Adam did. Now Adam is a symbol, a representation of Christ, who was yet to come. 15 But there is a great difference between Adam's sin and God's gracious gift. For the sin of this one man, Adam, brought death to many. But even greater is God's wonderful grace and his gift of forgiveness to many through this other man, Jesus Christ. 16 And the result of God's gracious gift is very different from the result of that one man's sin. For Adam's sin led to condemnation, but God's free gift leads to our being made right with God, even though we are guilty of many sins. 17 For the sin of this one man, Adam, caused death to rule over many. But even greater is God's wonderful grace and his gift of righteousness, for all who receive it will live in triumph over sin and death through this one man, Jesus Christ.
18 Yes, Adam's one sin brings condemnation for everyone, but Christ's one act of righteousness brings a right relationship with God and new life for everyone. 19 Because one person disobeyed God, many became sinners. But because one other person obeyed God, many will be made righteous.
20 God's law was given so that all people could see how sinful they were. But as people sinned more and more, God's wonderful grace became more abundant. 21 So just as sin ruled over all people and brought them to death, now God's wonderful grace rules instead, giving us right standing with God and resulting in eternal life through Jesus Christ our Lord.
An example from the Cities of Refuge
In the OT there were six cities of refuge appointed for mercy. The cities of refuge are types of Christ, in whom sinners find a refuge from the destroyer of our souls. Just as the guilty person sought refuge in the cities set up for that purpose, we flee to Christ for refuge from sin (Hebrews 6:18).
Each city becomes a type of Jesus Christ – for mercy was fulfilled in him.
1. Kedesh.
Kedesh means righteousness. Jesus Christ is our righteousness.
Jer 23:6 In his days Judah shall be saved, and Israel shall dwell safely: and
this is his name whereby he shall be called, THE LORD OUR
RIGHTEOUSNESS.
2 Cor 5:21 For he hath made him to be sin for us, who knew no sin; that we
might be made the righteousness of God in him.
Kedesh also means a place of holiness. Christ is our holiness.
2. Shechem which means shoulder. A shoulder designates strength or support. We are made strong in Jesus Christ.
1 Corinthians 15:57 (NKJV)
57 But thanks be to God, who gives us the victory through our Lord Jesus Christ.
3. Hebron
The meaning of Hebron is fellowship.
1 John 1:3 That which we have seen and heard declare we unto you, that ye also
may have fellowship with us: and truly our fellowship is with the Father, and with
his Son Jesus Christ.
4. Bezer is the fourth city of refuge. That means stronghold.
Proverbs 18;10 says
"the name of the Lord is a strong tower, the righteous run into it and is safe."
We are secure in the Lord Jesus Christ.
5. Ramoth is the fifth city of refuge. Ramoth means exalted.
Eph 2:6 And hath raised us up together, and made us sit together in heavenly
places in Christ Jesus:
God as raised us or exalted us above the defeated life style that we used to live.
You have a new position in the Lord Jesus Christ, you once was lost but now you
are found. Once a child of the devil now a child of God raised to the heights of
heaven in Jesus.
6. The sixth city is Golan which means joy. Jesus is our joy!
John 15:11 These things have I spoken unto you, that my joy might remain in
you, and that your joy might be full.
Acts 13:52 And the disciples were "filled with joy", and with the Holy Ghost.
Rom 14:17 For the kingdom of God is not meat and drink; but righteousness,
and peace, and joy in the Holy Ghost.
1 Pet 1:8 Whom having not seen, ye love; in whom, though now ye see him
not, yet believing, ye rejoice with joy unspeakable and full of glory:
1 Pet 1:8 Though you have not seen him, you love him; and even though
you do not see him now, you believe in him and are filled with an
inexpressible and glorious joy,